Stand with Ukraine. Save peace in the world!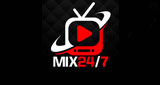 mix 24-7 Radio Tropical
Recordemos lo mejor de la música tropical en los años 70's 80's 90's 2000, un poquito de Sound, Bailanta, Plena, Cumbia Colombiana, Rancheras, Salsa, todo eso y mucho más es posible en esta señal tropical de Mix 24-7. No hace falta que estés de fiesta con la música que nos alegra la vida.
mix 24-7 Radio Tropical reviews