Stand with Ukraine. Save peace in the world!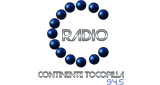 Radio Continente
Radio Continente (94.5 FM) es una de las emisoras con más trayectoria en el dial de Tocopilla, Región de Antofagasta. Nació un 22 de mayo de 1992 con el afán de cubrir una necesidad musical e informativa en la comuna.
Radio Continente reviews
Felicitaciones por la programación. A din Marcos Fuentes y su equipo de gran vocación y profesionalismo radial. Larga vida. Desde Santiago les mando un gran abrazo.

jose antonio ramon gutierrez alcoba morales

29.09.2021

Caramba, sería excelente que mantuvieran el formato antiguo tan eficaz de esta radio, sin dejar, por supuesto, de estar al día. Rumbos y Continente educaron a esta nación para la libertad, la conciliación, el acuerdo de las opiniones. Sería de verdad importante. Radios hay muchas, el formato devenido de la adaptación produce estilos uniformes, sin gracia ni personalidad. Allí tienen ustedes ese tesoro. De gratis.

Nicolas Fuentes

13.08.2021

Muy buena la radio, excelente el contenido

I love you dancer

Alfredo Mandiola

08.07.2021

Sudos radio continente en especial a Marcos fuentes abrazos amigo... Desde Antofagasta chile...

Carlos Morales Chepillo

30.05.2021

un saludo desde colombia para mi amigo de la juventud marcos fuentes bucaramanga colombia

Alfredo Ardiles Tello

14.11.2020

Hola amigos de fm continente,los escucho por "radio box"(internet)ya que por facebook no hay señal en vivo, saludos desde coquimbo.

Ximena Ester Toro

09.08.2020

Gracias !!!Cuando uno está cansado de escuchar tanta noticia deprimente, ustedes están 😉😀👏

Patricio Tello

08.06.2020

Hace poco encontre esta emisora on line y no dejo de escucharla. excelente la variedad de musica anglo y latina, me hace recordar a cuando en los 80 buscaba una emisora en el dial de la radio. Saludos desde Cañete 8va region.

Dj Lukas Pacheco Ortega

20.03.2020

Excelente emisora!!!