Stand with Ukraine. Save peace in the world!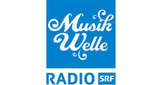 SRF Radio Musikwelle
SRF setzt Tag für Tag einen umfassenden Leistungsauftrag um. Basierend auf diversen Vorgaben interpretiert und konkretisiert SRF diesen Auftrag in den einzelnen Programmen – und entwickelt diese laufend gemäss den Bedürfnissen des Publikums weiter.
Show more
On the air SRF Radio Musikwelle
| | |
| --- | --- |
| Live | Radio SRF Musikwelle - Die schönsten Melodien für Sie - srfmusikwelle.ch - [email protected] |
| 12:59 | FAMILIENKAPELLE PFEIFFER - MIÄR ISCH GLICH, SCHOTTISCH |
| 12:56 | HD FRANZ SCHMIDIG-WILLI VALOTTI - ERINNERUNG AN ALBERT HAGEN, MARSCH |
SRF Radio Musikwelle playlist
TOP songs on SRF Radio Musikwelle
SRF Radio Musikwelle reviews
Roberto Gaioppa

28.05.2023

ottima musica

SEHR GUT

MEIN GOTT....... SIE HABEN EINEN SCHWEIZER SÄNGER ALS MODERATOR EINEN GROSSEN STAR DER EIGENTLICH IMMER IM HINTERGRUND IST!!!!! UND DOCH KANN KEINEM IHM DAS ZEPTER REICHEN.... MACHEN SIE DOCH MEHR DRAUS!!!!!!!

Die SRF Musikwelle finde ich als Auslandschweizer super. Die Musik ist abwechslungsreich und leicht und stellt eine Verbindung zum Heimatland dar. Doch die Nachrichten sind mies. Einseitig, zensuriert und eher eine Indoktrinierung als wirkliche Informationen. Sie sind lediglich ein Sprachrohr der diktatorischen Regierung als wirkliche Informationen. Besonders in Bezug auf Coid 19. Ohne die Nachrichten Wäre die Musikwelle ein echter Aufsteller.

Walter Buarotti

27.12.2020

Sehr guter Sender bringt immer wieder schöne und gute Musik

Radio Musikwelle ist mein absoluter Lieblinssender. Vor allem während der Weihnachtszeit kann man der Radio Musikwelle allen anderen Kanal eine Scheibe abschneiden, da Radio Musikwelle im Gegensatz zu den anderen Radios nicht nur Last Christmas bringen, sondern auch internationale Weihnachtlieder, wo man nicht kennt.

vorrei poter fare una dedica, ma come si fa? Per una persona che si trova a Zurigo mentre io sono qui in Italia.

Alberto Cattori

14.07.2020

radio fantastica BRAVISSIMI

Elias Siegrist

13.07.2020

Sehr guter Sender

sehr gut
Information about the radio
Radio SRF Musikwelle (ehemals DRS Musikwelle) ist ein Radioprogramm von Schweizer Radio und Fernsehen (SRF), das leichte Unterhaltungsmusik ausstrahlt. Von diversen Spartensendungen abgesehen ist das Programm sehr heterogen und reicht von deutschen und volkstümlichen Schlagern über Chansons und Canzoni, mehrsprachige Evergreens, Instrumentaltitel, Musicals und Operetten bis hin zur alpenländischen Volksmusik. Seit Mai 2012 wird nun ein moderiertes Tagesprogramm von 6 Uhr morgens bis 7 Uhr abends gesendet, zuvor wurden nur wenige Sendungen moderiert. Zum Teil wird das Programm von Radio SRF 1 ausgestrahlt. Seit dem 16. Dezember 2012 heisst der Sender nach weitreichenden Umstrukturierungen der Programmangebote der SRG SSR Radio SRF Musikwelle.
Radio contacts