Stand with Ukraine. Save peace in the world!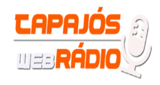 Tapajós Web Rádio
Rádio Eclética, a mais gostosa de ouvir!
Show more
Tapajós Web Rádio reviews
Information about the radio
TAPAJÓS WEB RÁDIO! É uma Rádio livre, séria e independente que assumiu o compromisso de trazer músicas, noticias e interatividade ao gosto do público internauta. Ouvida 24 horas, com uma programação singular, buscando valorizar o gosto diferenciado que o ouvinte procura e principalmente, dar maior destaque a música regional e local de sua gente. Localizada em Santarém Pará, totalmente digital, com uma grade de programação eclética 24 horas no ar, levando música, informação, entretenimento, esporte, prestação de serviços/ utilidade pública e muita interação com os internautas, por meio das nossas plataformas de comunicação, que compreendem o nosso site (chat, peça sua música, deixe seu recado.
Radio contacts