Stand with Ukraine. Save peace in the world!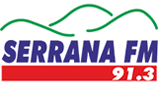 Rádio Serrana FM
O Som Que Chega Mais Longe! Uma pagina livre,aonde ás pessoas podem compartilhar ás postagens e também postar coisas no mural.
Show more
Information about the radio
A Serrana FM se consolidou como a principal e mais lembrada rádio de Nioaque e região, tomando a posição de líder de audiência.
Com uma equipe de locutores conectados ás diversas tendências musicais, comportamentos e notícias, a programação da emissora combina sucessos nacionais com hits mundiaise abrangência em diversos municípios vizinhos, justificando seu slogan "O som que chega mais longe".
Com tanta qualidade em uma única rádio é inevitável o reconhecimento por parte do mercado publicitário, pois somente quem possui a melhor audiência, pode trazer os melhores resultados. A rádio Serrana é uma que integra o Grupo Feitosa de Comunicação e pode ser sintonizada por meio do dial FM 88,7 Mhz.
Radio contacts