Stand with Ukraine. Save peace in the world!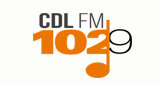 Rádio CDL FM
Belo Horizonte, 102.9 MHz FM
Aqui só toca música boa" é com esse slogan que a Rádio CDL FM, 102.9MHz, vem se destacando na capital mineira. Inaugurada em janeiro de 2008, a CDL FM lançou um novo conceito de rádio em Belo Horizonte, baseada em uma programação musical que combina sucessos dos últimos 20 anos com os novos talentos da música moderna nacional e internacional.
Show more
Information about the radio
Além da melhor programação musical a CDL FM emplacou um formato de programas e programetes culturais e musicais e jornalístico diferenciado, com conteúdos exclusivos, interativos e com linguagem simples e objetiva, ativando o dia a dia de milhares de ouvintes.
Radio contacts