Stand with Ukraine. Save peace in the world!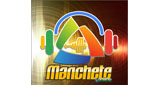 Rádio Manchete
A Rádio Manchete.online valorizando a cultura brasileira dos anos 90 e 80, é a primeira rádio da nossa cidade web a ter a ousadia de criar uma programação totalmente voltada para os que querem ouvir uma música de qualidade. Com um projeto que resgata a verdadeira música, a preocupação é de chegarmos até o ouvinte, não só Santamariense, mas de todo o mundo, através do puro som dos anos de ouro.
Show more
Information about the radio
Nosso Objetivo é que com a possibilidade de acessos por todos, a Manchete.online é ser reconhecida pelos amantes da boa e autêntica música, sendo eles ouvintes, artistas ou responsáveis por setores empresariais. Queremos cobrir eventos como: Festas, Festivais de rua local, entre outros, serão pontos fortes e transmissões garantidas na Rádio Manchete.online, levando esses espetáculos aos fãs espalhados no Brasil e no mundo.
A cada dia, novos amantes da boa música se encontrarão aqui. E para garantir que o ouvinte também tenha vez nesse espaço, e uma fidelidade com este site musical, nós disponibilizamos a Manchete.online como um espaço para você mostrar o seu produto. Faça parte dessa ideia e apoie a nossa cultura. Aderindo a esse propósito você estará divulgando e contribuindo para a preservação da boa cultura.
Radio contacts