Stand with Ukraine. Save peace in the world!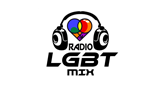 Rádio LGBT MIX
A Rádio LGBT MIX é uma emissora online que nasceu em 2020 com o nome inicial de LGBT News, Logo depois em 2021, mudou de nome para o nome que está até hoje, com objetivo de levar informação, entretenimento e música de qualidade para o público LGBT+ e simpatizantes.
Show more
Information about the radio
A rádio é uma iniciativa de um grupo de amigos que se uniu para criar um espaço de comunicação livre e inclusivo, onde as pessoas possam se expressar e se sentir representadas.
A Rádio LGBT MIX conta com uma programação diversificada, que inclui programas de entrevistas, debates, humor, cultura, saúde, direitos humanos e muito mais.
Além disso, a rádio também promove eventos, campanhas e parcerias com outras organizações e movimentos sociais que lutam pela igualdade e pelo respeito à diversidade.
A Rádio LGBT MIX é mais do que uma rádio, é um projeto de cidadania e de valorização da comunidade LGBT+ no Brasil e no mundo.
Radio contacts