Stand with Ukraine. Save peace in the world!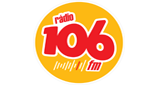 Rádio 106FM
Três Barras, 106.7 MHz FM
Rádio 106FM reviews
Hugo Kaleo Todt

11.02.2023

Toca Pf caminhonete branca Pf Pf Pf ajuda nois nunca pedi nada Pf sempre fui teu fã nunca lhes crítiquei s2 Pf

Sidinei Machado

21.08.2022

Ótimo

Emerson Kalewski

02.06.2022

Nota 1000

Dyonatas Eltermann

20.12.2021

👏👏👏👏👏

Toda noite estou ouvindo a rádio, e durmo com ela 😎😎😎

Nota 1000 parabéns 👏👏

top
Information about the radio
Todos os dias ao sintonizar 106,7 no Dial do seu rádio ou acompanhando as plataformas digitais da 106FM os ouvintes encontram músicas, diversão e prêmios. A emissora mais conectada do Planalto Norte de Santa Catarina é a ponto certo para ficar por dentro das melhores músicas e estar conectado com o que é importante para o seu dia.

A rádio iniciou as atividades em 2002, na cidade de Três Barras com o nome de FM Fronteira. Em 2008 entrou para Rede Transamérica de Comunicação, inaugurando o estúdio na cidade de Canoinhas. A bandeira Transamérica nos consolidou no segmento hits popular e sertanejo.

Atendendo a um pedido que invadiu os estúdios da emissora, em 2019, passou a ser a Rádio 106FM, mantendo a essência que a conduziu ao sucesso, mas inovando e disponibilizando conteúdo 100% local.

Com programas de sucesso, tocando as melhores músicas, e levando informações com credibilidade, seguimos consolidada no segmento jovem/adulto, sendo a rádio mais conectada com você.
Radio contacts
Telefone: (47) 3623-6050 Administração