Stand with Ukraine. Save peace in the world!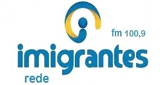 Rádio Imigrantes FM 100.9
Rádio Imigrantes FM, frequência 100.9, Teófilo Otoni - MG - à fanpage oficial da Rádio Imigrantes. Fique por dentro das principais novidades da 100.9 FM.
Show more
TOP songs on Rádio Imigrantes FM 100.9
Rádio Imigrantes FM 100.9 reviews
Schirley Oliveira

21.03.2022

Menina trabalhadora conectada.

Gabriella Santos

17.03.2022

Araçuaí conectada!!

Carlinha cacau

20.08.2020

tô na escuta do esporte aki em setubinha.

Ótima adoro essa rádio!!!!😊😊😊

Gabrielly Oliveira

01.05.2020

Tá ligado!🙌🏻

Judinei Mello Costa

09.02.2019

parabens
Information about the radio
Rádio Imigrantes - 100,9 FM Com uma população de aproximadamente 140 mil habitantes, mas influenciando comportamentos e vidas de mais de 1 milhão de residentes nas cidades circunvizinhas, Teófilo Otoni vem cumprindo o seu papel de cidade progressista, a tão sonhada "nova Filadélfia" do seu idealizador e fundador, o político liberal Theophilo Benedicto Ottoni.

Uma cidade que teve a imigração como um marco no desenvolvimento e povoamento da região. E espelhada nessa história, foi inaugurada no dia 13 de junho de 1988, a Rádio Imigrantes, 100.9 FM.

Há mais de 20 anos, a emissora transmite cultura e entretenimento, com uma programação musical variada e de intensa penetração no mercado regional. Uma grade com abrangência social e de prestação de serviço, que oferece o melhor para o seu ouvinte.

Cobertura A Rádio Imigrantes opera em frequência modulada (FM), 100,9, com potência de 10 kw e cobertura num raio de 120 km: Teófilo Otoni, Padre Paraíso, Catugi, Caraí, Poté, Ladainha, Sucanga, Valão, Itambacuri, Pescador, Campanário, Ataleia, Ouro Verde, Frei Gaspar, entre outros.
Radio contacts