Stand with Ukraine. Save peace in the world!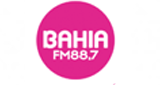 Bahia FM
Bahia FM, a rádio número 1 em promoções!
Show more
Bahia FM reviews
Eduardo Troncoso

20.12.2022

para mi es un verdadero placer , poder tener vuestra voz y vuestra música, un gran y afectuoso abrazo desde las ciudades del fin del mundo ..Puerto Montt, Chile,,,añoro regresar a esas hermosas tierra, y a esas hermosas personas...

Hannah clara Reis

02.02.2022

OBRIGADA PELAS FELICITACOES PELO MEU ANIVERSARIO HOJE.

maria rosalia de almeida gil

25.10.2020

xou de bola seria melhor ainda se angariarem certos gostos tais como ivete sangalo e gilberto gil meu muito obrigada ,meu muitissímo obrigada .

israel de melo silva ruel

19.11.2019

Eu gostei e muito desse programa
Information about the radio
A Bahia FM é a rádio que está ligada no povo da Bahia. Desde 2007 no ar, pode ser sintonizada no primeiro dial FM, o 88,7. Com um perfil popular, tendo como público-alvo pessoas das classes C, D e E, de idades entre 20 e 40 anos, a Bahia FM conquista cada vez mais novos ouvintes. Ações promocionais, interatividade, blitz, shows, entrevistas com artistas e bandas ao vivo no estúdio, são alguns dos diferenciais da rádio. Com uma linguagem descontraída, positiva e alegre, a programação musical privilegia os sucessos do momento.
O compromisso da Bahia FM é oferecer as melhores promoções para seus ouvintes, estar dentro dos bairros populares da cidade e divulgar os maiores artistas na sua programação. Fique ligado você também!
Radio contacts