Stand with Ukraine. Save peace in the world!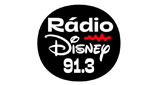 Radio Disney Brasil
Tá na Sua Cabeça, Tá na Rádio Disney! Rádio Disney - A Rádio que te ouve! 91.3 FM em São Paulo ou ouça de qualquer lugar pelo!
Show more
Radio Disney Brasil reviews
I love your new radio Disney station

OSCAR C. JUSTINIANO

29.04.2021

Saludos desde santa Cruz de la Sierra-Bolivia

Clarisse Souza

14.04.2021

A melhor rádio amei

Fernando Alexander Aguilar Marca

03.03.2021

saludos de peru

Gabriel Calderon

27.09.2020

I Like Radio Disney Brasil .. From Mexico City

Fabiano Chagas

03.10.2018

RADIO TOP DAS TOP...AMO DMAIS ESSA RADIO..SOU DO RIO

Daniel Cardoso

21.08.2018

eu amo
Information about the radio
No segundo semestre de 2009, a FM evangélica Nossa Rádio deixa a frequência migrando para os 106.9 MHz. Com essa mudança, iniciam-se especulações sobre o futuro dos 91.3 FM de São Paulo. Pouco antes do fim do ano, começa a ser transmitida uma programação adulta e circula a notícia de que haveria possibilidade de o Grupo Disney adquirir uma rádio na capital paulista. O conglomerado tem participação minoritária sobre a rádio em parceria com a empresa brasileira Radio Holding LTDA. Com essa aquisição, este passa a ser o maior investimento do grupo estrangeiro no Brasil.
Radio contacts
[email protected]
https://www.instagram.com/radiodisneybrasil/
https://www.youtube.com/user/RadioDisneyBra