Stand with Ukraine. Save peace in the world!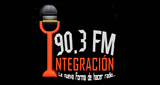 Radio Integración
Radio INTEGRACION 90.3 FM es una emisora legalmente establecida en la ciudad de Montero Santa Cruz Bolivia.
Show more
TOP songs on Radio Integración
Radio Integración reviews
Information about the radio
Nuestra emisora cuenta con revistas informativas, noticieros que contienen, responsabilidad, seguimiento, investigación, objetividad e imparcialidad, programas juveniles, familiares e infantiles con contenido sano, nuestras características son las transmisiones de eventos concernientes al desarrollo y bienestar de la sociedad cristiana evangélica y no. Nuestro compromiso con la sociedad, con un sin fin de actividades, sociales, culturales y deportivos, lograron impactar, a consecuencia de ello, dentro de las instituciones públicas y privadas somos tomados en cuenta y reconocidos por las Autoridades de turno, como una radio con credibilidad y contenido cristiano que fomenta, principios y valores que demanda nuestro compromiso con Dios.
"Marca un reto que contamine a toda la sociedad, Dios nos bendecirá en su momento.
Radio contacts