Stand with Ukraine. Save peace in the world!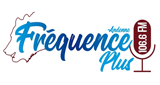 Frequence Plus Andenne
La radio est gérée par l'asbl Fréquence Andenne. Relais des associations andennaises, elle propose plusieurs magazines d'informations locales. En journée est programmée une musique tout public. En soirée et le week-end, les programmes sont ciblés sur des styles de musique plus spécifiques.
Frequence Plus Andenne reviews
Superbe émission, vous êtes Fantastiques, belle radio, formidable équipe. Big bisous à bientôt

Merci pour cette belle dédicace Alex. Je vous écoute de Tubize.

Pegasus FortniteƵƶ

18.12.2021

je kiff tros c'est chanson

Une radio qui re donne le sourire 😃 et nous re plonge dans nos souvenirs

Christine Servais

03.10.2020

Superbe équipe, bon accueil, et fous rires assurés, bon anniversaire

Vigneron Baudouin

11.11.2019

Merci beaucoup pour votre commentaire.

Heureux de pouvoir écouter de temps en temps depuis l'Italie, musiques de ma jeunesse passée a Seilles. Continuez come ça.