Stand with Ukraine. Save peace in the world!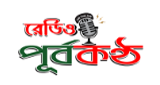 Radio Purbakantho
The Radio Purbakantho is the Online radio of Bangladesh. The Radio Purbakantho has been stablished as a non-profit social entrepreneurship for uplifting the rural & char community of Bangladesh.
Show more
Radio Purbakantho reviews
Information about the radio
Radio Purbakantho aims to provide necessary information through entertainment with a view to reducing poverty, discrimination and injustice of rural populations. In relation to this, Radio Purbakantho works together with community people for making & broadcasting daily 24-hour transmission including programs, talk-shows, and Songs.The Radio Purbakantho is the highest on-airing community radio in Bangladesh.

Within the short period, Radio Purbakantho has built trust among local population and administration.
Radio contacts