Stand with Ukraine. Save peace in the world!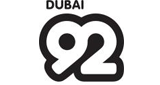 Dubai 92
The home of more music more variety, Dubai 92 breakfast with Harry & Pricey and The 92 Feelgood Weekend across the UAE
Show more
Dubai 92 reviews
Can you plz tell me the number of the contact radio!?

Can you play please, Tan Enamorados by CNCO?

I listen to Dubai 92 every day while I am doing homeschooling and I love it.
Information about the radio
Dubai 92 Breakfast with Harry & Pricey
Dubai 92 Mornings with Catboy
Dubai 92 Afternoons with Rich
Dubai 92's Homerun with Jono & Nats
Dubai 92's Evenings with Aylissa
Dubai 92's Feelgood Weekend
Dubai 92's Remix with Rich
Radio contacts