Stand with Ukraine. Save peace in the world!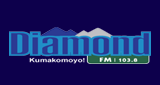 Diamond FM Zim
A Mutare based station is what the city needs, Diamond FM is the answer. Diamond FM was awarded a license to broadcast in Mutare thus enabling the residents and business community in Mutare to finally have a voice. The station captures, celebrate and amplifies the aspirations of the people of Mutare. This is done in English, locally spoken languages and dialects of Manicaland. The recruitment of presenters was carefully done and ensured that the full complement are local and paid attention to gender equality. The radio station is based at Manica Post building. Diamond FM uses state of the art equipment to broadcast within its confines but is also available on live stream.
Show more
Diamond FM Zim reviews
Robson Muchabveyo

20.05.2021

All the way from centurion Pretoria .SA keep up the good work nice one guys

Wellington Kavinga

13.03.2021

Feeling at home away from home ....#my station

Godfrey Muradzikwa

03.03.2021

Our own station

Elisha Mwadewekunze

06.01.2021

Listening to my home radio station in Mpumalanga Marloth Park.I really miss home.

Listening from UK almost mazuva ese. Love the station

Diamond FM is the best

Lesley Matebge

16.03.2020

Thank you Gogo Mlambo you are a star,we young mothers are learning

Hi my name is jake chowman .An Artist from Nigeria i'm a big fan of your radio station.please consider and listen to my afro beats songs when you are free you will love it . thanks for your listening.

Martha Kisimisi

19.12.2019

Am listening to Tisu Anu Acho now

Diamond Fm makes us underground artists and producers known for that l salute you keep it up
Information about the radio
Mutare is Zimbabwe's fourth city and boarders with Mozambique. The city has a vibrant tourism industry, active mining industry plus untapped mineral resources, historic educational background, fertile soils that support recognizable agricultural spots, birthed famous sports and artistic luminaries amongst other virtues. The absence of a local and dedicated broadcasting entity has resulted in all these virtues to either be underrated, underestimated or totally overshadowed by larger cities especially the capital city. The city has a story worth sharing. The city has an industry that needs to be revitalized.
Radio contacts