Stand with Ukraine. Save peace in the world!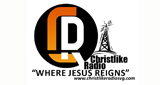 CHRISTLIKE RADIO SVG
Ministry in music and the word of God. Mark 16:15 -And he said to them, "Go into all the world and proclaim the gospel to the whole creation. Our vision here at ChristlikeRadio is to spread the word of GOD to this generation to inspire the world in holy living letting us know that christ is, and always will be and he is coming back.
CHRISTLIKE RADIO SVG reviews
Great channel, so glad that a friend recommended you to me. Keep up the amazing work!

Great Station

Nicholas Casperd

05.10.2019

I just heard about this station , nice programs and music . I enjoyed the music but I hardly hear vertical worship band, elevation worship band , planet shakers, I love those genre aka white people worship music ☺.

hey who is the minister i heard ione morning at like 6:40 am california time. i heard him on the TineIn app but CVG though. thick carribean accent. it was a great teaching. please let me know thanks. twitter: faithmassive