Stand with Ukraine. Save peace in the world!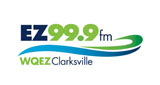 EZ 99.9
Fort Campbell North, 1370 kHz AM
WQEZ (1370 AM) is a radio station broadcasting a soft adult contemporary format. Licensed to Fort Campbell, Kentucky, United States, the station serves the Clarksville-Hopkinsville area. The station is owned by Saga Communications through licensee Saga Communications of Tuckessee, LLC, and operates as part of its Five Star Media Group. Its tower and transmitter located on Stateline Road in Oak Grove, Kentucky immediately outside the main gates of the Ft. Campbell, Kentucky military installation.