Stand with Ukraine. Save peace in the world!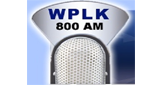 WPLK 800 AM
WPLK 800 AM is a radio station broadcasting a Nostalgia format. Licensed to Palatka, Florida, USA. The station is currently owned by Radio Palatka, Inc.
WPLK 800 AM reviews
Tammy Wilkerson O'brien

10.11.2021

Ok

It's a shame that Kenny doesn't get it. He slams what he dosen't know, typical Demacrap. WPLK keep doing what you do, you have loyal listeners.

Michael Barady

29.02.2020

Love this station. Thank you for the variety 😊

Love when these wplk announcers love to proclaim how American and Christian they are...yes Jesus please let us cage more children for running for their lives... Make sure Jesus we separate them from their family's...cant have them in our country...And Jesus please allow our savior Trump to take away healthcare from millions who will die without it....And pray the Dems stop doing things to help save the planet...the nerve of them trying to avoid mass death.a...oh and Jesus we know you want us to all have any size slaughter machine we want...it says so in the bible. Dam the Dems for trying to find compromises in gun laws....also Jesus please make them stop giving food stamps to the poor....Dam weak people if they can't stand on their own feet why should we pay our taxes to help them?....Oh and Jesus please make sure our great nation keeps spends trillions on war machines. And keep giving those tax breaks for the rich...and screw those free breakfast programs for school kids.. .not with my taxes. Oh and thank you Jesus for our sociopathic LYING braggert of a greedy multi adultering. President..so he mocks the disabled and insults and assaults many...he does it all in yourname....after all rush Limbaugh knows more about science then uh scientists.

Charles Wooster

15.04.2019

I enjoy onlineradiobox thank you for what you offer! I also enjoy 800 WPLK-AM.