Stand with Ukraine. Save peace in the world!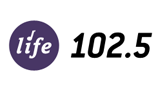 Life 102.5
WNWC-FM (102.5 FM, "Life 102.5") is an American radio station broadcasting a contemporary Christian music format. Licensed to Madison, Wisconsin, USA. Uplifting music! Like Casting Crowns, MercyMe, TobyMac and more!
Life 102.5 reviews
HOLLY RIOS-MARTINEZ

09.05.2022

you should hear DAN MILLER songs he sings Christian country music.

I love Lauren Daigle's songs, and the new Take Me Back to Church, that is awesome. I do agree with Laurel Reedy on the over the top kid comments from the afternoon DJ. I am on my way home from work then and want to hear more music and less talking. I am not judging just saying. Thanks for a wonder radio station. Kathy Johnson.

What a wonderful message from Max. Thanks Life 102.5 for airing this and the uplifting music!

Love this station!! Home, car, work, you are always with me!! So many times the right song is on at the right time!! So much anxiety and stress with today's world, so happy for 102.5!!!

Отличное христианское радио. Много современной музыки. Слушаю вас с удовольствием!

Tiffany Heinzeroth

08.01.2020

I just love this station, it really uplifts me, You guys are amazing! I l listen to you everyday! God Bless! TIFFANY HEINZEROTH

I would wish for less talking and more music. Much of the talking has been silly and takes up time when I'd rather listen to Christmas music. I enjoy the music but let's weed out the talking. Thanks.

SO GRATEFUL, SO GRATEFUL FOR LIFE 102.5 F.M.

I wish this station was actually more family friendly. The music is fine and my kids enjoy it, but there have been several times when I have found myself changing to a different station because the DJs are complaining, at length, about children (their own children and just children in general). To me, that means that this station is not family friendly. I don't want my kids to hear other adults complaining about what burdens children are. All that is going to do is make them feel bad about themselves and they don't need that.