Stand with Ukraine. Save peace in the world!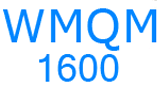 WMQM 1600 AM
WMQM 1600AM in Memphis, Tennessee broadcasts from the center of Memphis with 50,000 watts of power. WMQM offers Christian programming to one of the most diverse cities in the nation.
WMQM 1600 AM reviews
Pastor Gary Warr we see ya😘😘😘😘

Thank God for Bishop Samuel Wilkes and Straight from the Bible Ministries. He is declaring the whole truth preaching sound doctrine.

Amen Amen

Frederick Scott

04.12.2021

I think God for pastor war and what he's doing for the community may God continue to bless him and his family and church family Your brother Frederick AKA Red

Yes Ma'am Sis. Donna Muhammad 💕

Cheryl Miller Mcculloch

21.04.2017

ANDREW L CLARK SR. I LOVE YOUR TALK SHOW I LISTEN EVER DAY WHILE IN SCHOOL LINE I ENJOY YOU AND SHANE ITS HARD TO FIND A TALK TO OUT THERE TO SPEAKE THE TRUTHI DONT ALWAYS BELEAVE THE ORTHER GUY OR BLACK C OR RIHEAN OR PRINCE CHARLES OR LITTLE DADDY AKA LITTLE PACKAGE LOL I LOVE YOU TAKEING YOUR TIME TO RESEARCH ALSO YOU DO ALOT SO THANK U ANDREW!!!! BY THE WAY IM THE JOHN CENA LADY LOL HAVE A BLESSED DAY MY FRIEND.
Radio contacts
FAX: (901) 327-2777