Stand with Ukraine. Save peace in the world!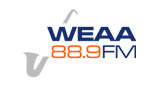 WEAA
WEAA is an exquisite mixture of programming; mainstream and contemporary jazz - complimented by gospel, reggae and excellent public affairs.
WEAA reviews
Dr. Kaye isn't from Baltimore, so she'll never understand true city lyfe coming from the country. PHD's don't give one street knowledge, just book smarts, but only if comprehension was applied. I was awarded a Victory against the Department of the Navy found guilty of a Title VII. And she wouldn't acknowledge that as a step forward. Yet she asked, "What Next after BLM"?

Love you guys since 35 yrs ago may Allah continue to bless you

Raokhsha Emerald

04.05.2022

Laura is always embarrassed when I call-- I'm her mom. So I'll just say "Hi!" here and tell her and Chase how great they are.

Jeannette Green

15.11.2019

I love the New Stevie Wonder Jazz song but I keep calling to find the name of the Cd

Absolutely love Sunday morning with 88.9

Ruffin's Lawncare

22.07.2018

Great music, keep DJ Scoob house music rocking on rotation fire!!