Stand with Ukraine. Save peace in the world!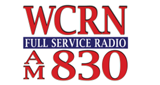 WCRN 830 AM
Get your day started with all the news and talk you need! Join Hank Stolz with live and local news and talk in the morning. News, Weather, Sports, Traffic and Weather to start your day on AM 830 WCRN.
WCRN 830 AM reviews
Love Howie Carr!

Great segment with President Pradaja with QCC! He's doing a great job, always thinks of the students first. 100% student success! He mentions Workforce Development which has been playing a vital role in staying connected to the community and grants.

Je réside au Québec il ni à pas de station radio aussi fantastique que wcrn.