Stand with Ukraine. Save peace in the world!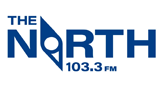 The North 103.3
The North 103.3 FM has been the Northland's source of alternative radio since 1957, originally known as KUMD. For over 60 years, we have been proud to serve our listeners with a variety of music and programming. From jazz, to blues, to hip-hop, to indie, we keep an eclectic mix on the airwaves.
The North 103.3 reviews
Best station ever!
Radio contacts
Studio Line: (218) 788-1033