Stand with Ukraine. Save peace in the world!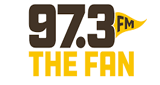 97.3 The Fan
97.3 The Machine (KEGY) - is a radio station licensed to San Diego, California. Owned by Entercom, it broadcasts a mixture of talk radio and classic rock programming, as well as coverage of the San Diego Padres.
97.3 The Fan reviews
Christine Phillips

28.08.2022

I am a Kansas City native. I enjoy listening to you, and actually prefer you to our local broadcasters. That said, there is a Midwest saying that you must avoid, while broadcasting in KC. Missouri is pronounced Muhzurri, not Missouruh. Only those in St. Louis and Southern Missouri pronounce it Missouruh, which can start a plethora of discord between the 2 largest cities. And, of course, although we love St. Louis, KC is not St. Louis. St. Louis has never forgiven us for winning the World Series in 1985.

Great

Edward Arrieta

29.05.2022

Help me get better reception. I have a very good radio, actually I have 3 of them. I try and try to improve the Padre's broadcast. I live in Carlsbad. Is there any way you can increase power. Right now a mexican station overpowers yours easily. Also, a lower FM band does too! I just get mostly static andvery little voice of the game on 97.3FM.
Radio contacts
Business Office: 619-291-9797