Stand with Ukraine. Save peace in the world!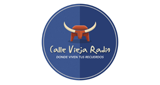 Calle Vieja Radio
Nacimos con la necesidad de guardar todos tus recuerdo en un solo lugar. Logramos hacer esto a través de cada canción que toco tu corazón, es así como cada vez que nos escuches vivirás nuevamente ese momento que te volvió a ese lugar mágico que nunca olvidarás
Calle Vieja Radio reviews
Carla Brenes Avendano

15.05.2023

Excelente programación q sigan así bendiciones siempre.

Berenice Valverde

04.05.2023

Excelentes programas.

Excelente, muy bien las canciones ,muy emblemáticas de nuestra época, la locución y animación muy profesional.

Desde Ocala en el estado de FLORIDA USA, Los felicito por un programa tan especial que nos mantiene viva la esperanza de volver a mirar nuestra patria, son muy profesionales.

Elí O. Carranza

02.09.2021

Muchas gracias por la valiosa oportunidad de difundir mis poemas, a través de Calle Vieja Radio.

Excelente! Programa

Edmanuel Ferreira

22.02.2021

De La Serena, Chile, Edmanuel Ferreira, saluda y felicita a su colega Silvia Siller por tan excelente programa.

Marcela Siller Gómez

02.11.2020

Me encantó FELICIDADES SILVIA QUERIDA. Desde San Luis Potosi, Mëxico.

Cristian Martinez

14.09.2020

Muchas gracias desde mi barrio alto cruz

Gabriela Ocampo Camacho

05.08.2020

Muy lindo! Muchas felicidades Silvia, mis hijos tuvieron una experiencia muy linda con un delfín que estaba en cautiverio pero no estaba entrenado y estableció un nexo con ellos y respondían mutuamente muy curioso, eran muy chiquitos.