Stand with Ukraine. Save peace in the world!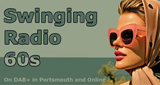 Swinging Radio 60s
Broadcasting 6-miles from the coast of Portsmouth, Swinging Radio 60s is your all day authentic sound of the 1960s. Brought to you by those nice people at Angel Radio.
Swinging Radio 60s reviews
Love Roger Davies Rare flashback show where we get an eclectic playlist of forgotten gems

Darren C Green

11.08.2023

Good Morning From Harlow In Essex. Love This Radio Station. I Was Brun In 1965.

Armandine Gaulin

26.05.2023

I love it!

Victor L Moore

07.04.2022

Superb. Returns to those fab, swingin' days of the 60s. The Presenters; all great but different bring me back those precious times. Keep on a rockin'!

Beverley Hollis

29.09.2021

Great station. Love the Elvis story at 1pm on Wednesday in particular. Thank you x

Brilliant station , excellent

Brilliant Channel, great presenters .