Stand with Ukraine. Save peace in the world!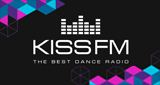 Kiss FM
Kiss FM - крупнейшая танцевальная радиостанция в Украине с покрытием 82 городов. В эфире "Кисс ФМ" звучит популярная в Европе клубная музыка от известных диджеев: Armin Van Buuren, Tiesto, David Guetta, Calvin Harris, Avicii, Eric Prydz, Omnia, Tapolsky, etc.
Show more
Kiss FM reviews
Записала трек, що сподобався - немає ніде ніякого сервісу, щоб взнати що за трек був. Плейлісти на кісс фм сайті не працюють, а тут не відповідають дійсності

Та налаштуйте нарешті діючий плейлист! Солідне радіо, а плейлиста ніяк не налаштують після хакерів. Чи у вас руки зі сраки ростуть?!?

Yaroslav Marshal

12.10.2022

Лучшее радио с кислотной музыкой, слушаю по кд

Alejandro Esquivel

27.09.2022

Hoy esta Excelente la Musica, Gracias, Desde Nicaragua

Евгений Онищенко

09.08.2022

Добрый день! трек один понравился, нигде найти не могу, подмогите. (усi тут, подоляк, президент.....)

а на KEXXX FM Kiev є плейліст.

Чому не має плейлиста хітів,які звучали в ефірі радіостанції???

LA MULTI ANI FERICITI PENTRU LILIA BUDESCU SIA UNSTOPPABLE

Нормуль!!!

Esta bien supongo, es buena para pasar el rato.
Information about the radio
Впервые в эфире радио Кисс ФМ появилось в 2002 году. Именно с ее появлением на просторах украинского радиопространства появился популярный в Европе формат – DANCE. Благодаря этому событию украинские радиослушатели смогли открыть для себя многих зарубежных исполнителей танцевальной музыки, которая начала набирать популярность в Украине. Также благодаря усилиям Кисс ФМ в Украине начали появляться и популяризироваться местные исполнители, которые смогли завоевать не только украинский эфир, но и выйти на мировой рынок.

Сегодня Кисс ФМ по праву считается законодателем моды для миллионов людей всей страны.

Помимо основного канала радио Кисс ФМ предлагает послушать онлайн три тематических канала - Deep, Digital и Ukrainian, которые транслируются только в интернете и не доступны в частотном радиоэфире.

Радиоведущие:
• Artem Neba
• Ira Champion
• Irina Filatova
• Ivan Ionov
• MR.Sunny
• Rey-na
• Аня Арфеева
Radio contacts
Viber: https://vb.me/kissfm
https://www.instagram.com/kissfm_ua/
https://www.youtube.com/user/TheKissfmUkraine
Time in Kyiv: ,