Stand with Ukraine. Save peace in the world!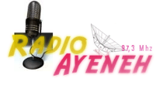 Radio Ayeneh
Radio Ayeneh är nyhetsorganet för Idrott och kulturföreningen Ayeneh en opolitisk, icke religiös och obunden radiostation som grundades med idén att kunna ge information om först och främst Sverige och vad som händer i samhället.
Show more
Information about the radio
Programmet är en nyhetbaserad och alla nyheter från hela världen behandlas lika när det gäller värdet. Olika delar i programmet är nyheter om sport, kultur, ekonomi, medicin, senaste forskning och coolaste musiken från hela världen.
Programmet har olika innehåll beroende på dag, nyhetsflöde och programledare. Innehållet på programmen vänder sig till persisktalande i Sverige som kommer från olika länder så som Iran, Afghanistan, Tadjikistan, och Azerbaijan och många svenskar som har lärt sig språket av eget intresse, arbete eller på grund av familjeförhållandet. Radioayeneh sänds alla dagar i veckan och programmet sänds samtidigt via Internet till hela världen och efter varje programm finns det möjlighet att lyssna på arkiven som alltid finns tillgänglig tills nästa dag och nytt programm som ersätter det gamla.
Radio contacts
Email [email protected]
Telephone 0046 8 733 15 15 0046 73 87 2 93 63