Stand with Ukraine. Save peace in the world!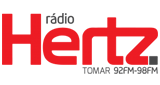 Rádio Hertz FM
Listen online to Radio Hertz 98.0 in Tomar, Portugal.
Show more
TOP songs on Rádio Hertz FM
Information about the radio
A Rádio Hertz teve as suas primeiras emissões experimentais em Fevereiro de 1983, emitindo em locais incertos, era o tempo da verdadeira pirataria. No início de 1984 começaram as emissões regulares, obedecendo já a uma grelha de programas bem definida e variada. No dia 24 de Junho de 1984 a Rádio Hertz foi silenciada. Poucos dias depois voltava a estar no ar, e o impacto na população foi tal que no dia 09 de Setembro de 1985 teve lugar na secretaria notarial de Tomar a escritura pública da Associação Cultural e Recreativa Rádio Hertz. No mesmo dia os estúdios são transferidos das Algarvias para o Centro Comercial, nova fase, novo impulso. Última fase da Rádio Hertz agora na Rua Marquês de Pombal, 30 em Tomar (Junto à Ponte Velha). Na manhã histórica de 09 de Junho de 1989 a Rádio Hertz estava a funcionar legalmente. Empregado desta associação há mais de 20 anos, como técnico e comercial, João Franco que já tinha gerido a rádio durante 5 anos, em Julho de 2008, tornou-se o novo Presidente, decidindo que as instalações teriam de ser outras, mais centradas, mais modernas, com mais espaço e mais condições de trabalho, dando assim lugar a uma nova equipa e um novo projecto para a Hertz na Rua Centro Republicano, 135 em Tomar.
Radio contacts
Tel: 249 323 120
Fax: 249 316 995
E-Mail:[email protected]