Stand with Ukraine. Save peace in the world!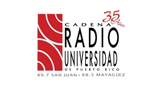 Universidad de Puerto Rico
La radio es hoy día un medio altamente especializado en el cual se da por sentado que no hay lugar para la diversidad. Existen emisoras de noticias y emisoras musicales dedicadas a un sólo formato o género, lo cual facilita la programación de las "memorias" en los aparatos de radio con música predecible, efímera y desechable y espacios noticiosos estridentes y sensacionalistas. Aquellos tiempos en que el oyente navegaba por el cuadrante en busca de algo que le sorprendiera con su calidad y originalidad parecieran haber terminado.
Universidad de Puerto Rico reviews