Stand with Ukraine. Save peace in the world!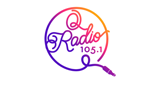 Q Radio
The usual? Same old? How about something new? How about something... Q? QRadio 105.1 — where the world revolves around you. Bringing you to center stage with today's top music and hot off the press news. Q's got you covered with updates on entertainment, business, world news and your everyday commute.
Q Radio reviews
playlist please

Jayson Bustamante

25.12.2020

Ok na ang sound ng Q Radio. Kudos!

Angel Mae Tagari

24.07.2020

I cant hear anything😭

I just heard "My My" of KPOP group SEVENTEEN songs (self-producing idol group). This is great and meaningful song that inspires many people. I want to hear "left & right". Thank you so much. Long live.

Rosalie Collantes-Simeon

11.12.2019

My favorite. Hope to download sounds of the aoul by fr larry

Gregorio Torres

26.11.2019

fine audio

Wilfredo Tecson

19.09.2019

Ok so far.

Pio Nestor Moreno

15.08.2019

great music.. I always loved this station..

Seldom on air sounds so fake. Like crossover is everything to fool people its smooth jazzy sexy ...omg. what is 105.1 really? Now their account is suspended. Sound fishy

one of my favorite FM station, Crossover..