Stand with Ukraine. Save peace in the world!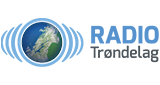 Radio Trøndelag
Stjørdal, 101.7-107.9 MHz FM
Radio Trøndelag er en av Norges største lokalradioer. Vi har konsesjon i 24 kommuner i Nord og Sør Trøndelag. Vi sender hele døgnet, hele uken. Det som på vårt språk heter 24/7 radio. Litt over 100 medarbeidere fordelt på 4 kontorer sørger for at god radio kommer på lufta!
Show more
TOP songs on Radio Trøndelag
Information about the radio
Herlig gjeng med radioaktive frivillige og noen få innsatte gledesspredere sørger for massevis av variert lokalt innhold på FM-radioer, mobiltelefoner og internettradioer over store deler av Trøndelag. Nettradioen når hver en krok i verden hvor det finnes internett.

Mange fantastiske mennesker lytter til gla'radioen hver eneste dag som får høre mye trøndersk musikk, ny og gammel pop, rock og litt dunk-dunk. :-)

FREKVENSOVERSIKT
101.7 STRÆTEFJELL | Horisontal | 61
102.8 LEVANGER / BORRSÅSEN | Vertikal | 24
104.4 BYAFJELL | Horisontal | 61
104.9 ÅSEN / ORKANGER | 51
105.5 SPILLUMSAKSLA | Horisontal | 157
105.5 KIRKEBYFJELLET | Horisontal | 62
105.9 STJØRDAL SENTRUM | Vertikal | 125
106.4 GRONG / GEITFJELL | Vertikal | 770
107.2 HEMNAFJELL | Vertikal | 212
107.4 FROSTA | Vertikal | 50
107.9 SKAVLEN | Horisontal | 100

102.9 TRØNDERENERGI lokalt bredbånd Stjørdal
Radio contacts
Telefax: 74 83 95 90