Stand with Ukraine. Save peace in the world!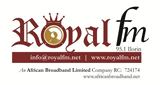 Radio Royal FM
Royal FM is a radio station located in Ilorin, Kwara State. This is a classic music radio station that plays the best entertainment classic music as well as information. It was launched in 2010.
Show more
Radio Royal FM reviews
Temitope Dada-Joel

18.04.2022

Ok

RICHARD DAMILARE

04.11.2021

One day I attended a program where all radio presenters crew were present but only Royal FM crew were not there , I asked the program moderators for the Royal FM crew they told me that Royal FM crew only come to that program if they want to teach other radio presenters some lessons , since that day I confirm Royal FM as the Leader.Royal Fm the LEADER of all Radios .

Ridwan Alakoso

18.05.2020

Hi l'm ridwan by name I really love your radio station l'm an upcoming artist I go by the stage name Alasky coded and I want to get my music play on your radio station so how is it gonna be please message me back when you get this

Hy really love this station... And all their crews are wonderful people....

Babajide Oyedokun

24.04.2020

Good station. I used to listen to the station before but I lost the contact. Greetings to all your staffs. From Babajide Scotland

I love this station

Adetula Solomon

12.11.2019

Since I was in UNILORIN, I have love yo listen to Royal FM. The DJ is also bad. The latest music gives me the latest. I love the Radio station for its dynamism too.

BABATUNDE MUHAMMED

11.07.2019

one of the best

Otunba Mohammed Wasiu-Esaba

25.04.2019

Continue to wax stronger

I love 👑 Royal FM... I'll recommend the radio station to everyone...
Information about the radio
Royal FM is an indigenous radio station based in Ilorin. Operating on 95.1MHz frequency, the radio is the first indigenous radio station in Ilorin, Kwara State, North Central Nigeria. Designed as the station of choice for the youth and the young at heart, the station has completed the installation of a back-up studio in Lagos to stand by for the ultra-modern Ilorin studio. Programmes on the station are designed to encourage local content and launch indigenous stars into international limelight leveraging on the use of ICT.
Radio contacts