Stand with Ukraine. Save peace in the world!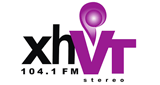 XEVT
Villahermosa, 104.1 MHz FM
la primera estación de Tabasco, que transmite sport, noticias y música de los generos más diferentes. 104.1 fm - Telereportaje, Noticias en Flash, Señal que une.
Show more
XEVT reviews
pedro manuel jimenez jimenez

28.04.2023

Felicidades muy buen programa y aprovecho para mandar saludos a la Asociacion Unidos por la Dignidad del Deporte. quienes realizan accion en pro-del deporte en Paraíso,Tab.

Excelente Radiodifusora no hay igual y pronto crecerá, su ruta se encamina hacia la televisora. Bendiciones para los hermanos Sivilla y todos los que hacen Tele Reportaje

Tania Calderon

09.11.2022

Dr vazquez Rovirosa, excelente médico, muy asertivo y atento 100% recomendado

Victor Salinas

09.11.2022

Accidente en el Periférico Arco Norte frente a Pyasur, causa caos vial, tráfico muy congestionado. Urge presencia de la policía estatal de caminos.

Marbella Ovando

04.08.2022

Felicitaciones al sr. Domingo Ovando que está cumpliendo año. Escucha en la ranchería tierras peleadas. De parte de su hija marbella.

Natividad Vidal

02.08.2022

Hoy en cabina la MARRANA prieta de la política choca (Manuelito Andrade).

Por favor tomen en cuenta y volteen a ver las cosas que pasan en Teapa la presidenta esta haciendo cobros indebidos a los comerciantes

Que dice el presidente de los cobros ilegales e injustos a los comerciantes de TEAPA, TAB. por parte de la presidenta municipal Alma Espada.

manuel Guarnero

08.06.2022

Que dice el gobernador sobre los cobros ilegales x parte de la presidenta Municipal Alma Espadas de teapa haciablos comerciantes y el terrorismo fiscal como política económica recaudatoria

Muy buenas tardes ...es cierto que el gobierno de Andrés Manuel nos dio de baja a todos los Jóvenes Construyendo el futuro ...No se vale ..yo tenia mas planes para terminar construyendo el hogar para mi familia .. me dejo a medias ...No se vale presidente lo que nos estas asiendo ..no todos aprovechan el programa pero x lo menos yo si lo medio aproveche ..cuando vuelva a venir los votos ten x seguro que tendrás mas enemigos de los que tienes ahora .
Information about the radio
En vivo y en directo, cada día, durante todo el año a través de la red de redes "la Internet", en cualquier lugar del planeta, se puede disfrutar de la propuesta radiofónica que presenta la XEVT logrando también la interacción inmediata de quien busca, sigue y necesita la sintonía de la imagen de la radio "XEVT".
Radio contacts