Stand with Ukraine. Save peace in the world!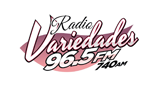 Radio Variedades
La mucica que acaricia tu sentido auditivo con musica Romantia Las 24 horas del dia
Radio Variedades reviews
Antonio Devivaldi

14.09.2023

Saludos a la higuera de Zaragoza desde nogales sonora escuchando en linea ...a mi apa chayo y a mi ama juana un abrazo.....

Luis Antonio Medina Morales

03.02.2023

No hay mejor estación de música romántica en todo Sinaloa, Radio Variedades la mejor por su contenido de música de todos los tiempos y el mismo tono de identificación te hace remontar a a los años 70s,!

Mi Esposa Lupita y Yo escuchamos Radio Variedades diario en Carlsbad Ca. Somos de Los Mochis de la Colonia Insurgentes, La Verdad la mejor estación de Radio. Felicidades a Radio Variedades.

MIGUEL GERMAN Gonzalez

04.11.2022

LA MEJOR ESTACION DE RADIO DE LOS MOCHIS Y LA MEJOR MUSICA DEL RECUERDO QUE NOS HACE VIAJAR EN EL TIEMPO MUCHAS GRACIAS, SALUDOS.

me encanta radio variedades de los mochis Sinaloa:) saludos desde colorado:0

Me encanta Radio Variedades, gracias por su programación.

Ericka Santana

09.06.2022

Muy buena radio toda su programación musical que nos hace viajar al pasado

Rodrigo Guzmán Segoviano

14.05.2022

Muy buena estación, con temas de antaño, saludos desde Guanajuato Capital

Recordar es volver a vivir, maravillosa estación de radio, apenas la descubrí en un viaje por carretera a Los Mochis, ahora la escucho en línea desde Cd. Obregón, excelente música del recuerdo

JUAN CARLOS SOTO VARELA

05.05.2022

MUY BUENA ESTACION, PARA RECORDAR LA MUSICA DE M JUVENTUD. FELICIDADES POR SU BUEN TRABAJO Y PROGRAMACION A TODOS LOS QUE COLBORAN PARA HACERNOS SENTIR JOVENES OTAVEZ.