Stand with Ukraine. Save peace in the world!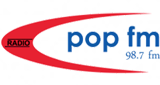 Pop Fm
La estación de radio con la mejor musica pop en Ingles y Español, transmite en su frecuencia modulada, las 24 horas del día, con información actual y noticias locales, internacionales.
Show more
Information about the radio
Pop FM, una estación que comienza transmisiones el 5 de mayo de 2006, nace como un concepto radiofónico "dinámico" que en la actualidad es escuchada por gente entre 18 y 45 años de edad todos los días.

Con presencia a nivel nacional e internacional, Pop FM cuenta con una completa oferta radiofónica que descarta por completo la monotonía de contenidos, una característica muy importante que no sólo permite satisfacer los gustos más exigentes, sino que además permite capturar la atención y la permanencia de todo un público que sin importar su edad, género, interés musical o ubicación geográfica, ingresa una y otra vez -por largos periodos de tiempo- a una plataforma en donde realmente existe la posibilidad de "escuchar buena música" las 24 horas del día.

Rock, Pop, Música electrónica, Chill out, adulto contemporáneo (en formato español-inglés) así como una barra de programación en vivo, hacen de Pop FM la mezcla exacta que genera amplios volúmenes de audiencia, una audiencia que en su mayoría se encuentra integrada por un target nivel A, B y C+.
Radio contacts