Stand with Ukraine. Save peace in the world!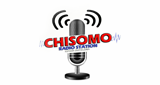 Chisomo Radio Station
Chisomo Radio Station's current footprint embraces dominance of listenership and is lakeshore's biggest radio station directly serving the community,being the most popular mass media vehicle. CRS provides an established platform from which service & product providers can increase mileage and realize cost recovery rapidity, at minimal rates, by bringing products and services to the attention of the central region's urban, Peri-urban and rural communities.
Chisomo Radio Station reviews
John Nyakamera

18.06.2023

CRS ! satisfactory quality of sound

Patrick Kachere

18.06.2022

Chisomo Radio Station is indeed reaching the unreached.

Blessings Tsoka

17.05.2022

Chisomo Radio Station is just Wow!!!

Limbikani Kwalira

20.04.2022

CRS ndi Nyatwaa

I'm listening live from Bertram's in Johannesburg

innocent chunga

07.07.2021

well done CHISOMO RADIO STATION I'm listening live from Nkhotakota-Malawi.

Uchindami Galimoto

26.03.2021

I'm listening it live from Mzuzu.

Listening Iive from Malawi Lumbadzi

I am listening from Durban, South Africa.

Im traying to download it l want to listen from here in South Africa. What must l do? Pl help m