Stand with Ukraine. Save peace in the world!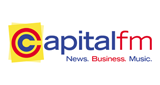 Capital FM Malawi
Malawi's number one urban News, Business and Hit Music station. Capital FM is a privately owned Adult Contemporary English Radio Station that was launched 29th March 1999.
Show more
Capital FM Malawi reviews
Reuben Kachinga

22.02.2023

Nice and loud keep it capital

Louder and clear here in France

lucious chingasalah

25.10.2022

clear clear limbe

Maureen Gilbert

08.10.2022

Hi Carl I am on loving it

Thomas Sestino Lot

07.06.2022

Kumveka bhobho kuno ku sozibele

Listening from Abuja, Nigeria.

But the sound is very low, why

Just discovered this and am more than thrilled to be able to keep up with news from home.

Listening from Munich. Keep it up Capital FM

I am so happy to listen to my mother, my life changer.
Information about the radio
Capital FM was the second commercial station to be launched and now boasts majority listener-ship amongst the bi-lingual urban population, particularly decision makers.
We are affiliated with the British Broadcasting Corporation (BBC World) and Voice of America (VOA)
We value civic responsibility and seek to give the people of Malawi a new voice by providing quality broadcast news, information and entertainment programming that will assist them to speak out for better services and good governance.
Radio contacts