Stand with Ukraine. Save peace in the world!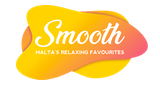 Smooth Radio Malta
Smooth is Malta's number one digital radio station, playing Your Relaxing Favourites. We provide an oasis in our listeners' busy lives by playing quality songs they know and love. On DAB+ digital radio, Melita TV, mobile, tablet or laptop, Smooth is Malta's best place to relax.
Show more
Smooth Radio Malta reviews
Great station to listen daily!!

Alun Weaving Baluci

23.11.2022

The music is just awesome. Shame they are not on global player.

Sandra Zammit Dimech

24.08.2022

If you like Whitney Houston, Elton John, Madonna, Phil Collins & Lionel Richie this is the station for you! Great songs all the time.

Kirsten Mifsud

23.08.2022

The best music radio station in Malta by far! 100% in English too.

I love Smooth. It plays the best songs and the presenters don't talk too much either.

The best radio station in Malta by far! Quality songs, quality presenters and 100% in English too.

Dominic Farrugia

13.07.2022

Repetitive

John Robert Buhagiar-axisa

10.01.2022

Absolutely fabulous, one of the best if not the best
Information about the radio
Malta's Smooth Radio is guaranteed to lift your mood and put a smile on your face whenever and wherever you listen across the Maltese Islands.

Playing Malta's Relaxing Favourites, we blend quality songs from Elton John, Stevie Wonder, Abba, Ed Sheeran, Whitney Houston, George Michael, Adele, Take That, Madonna and more.

Malta's Smooth Radio is also a reliable friend you can trust, with just the right amount of news and information at breakfast and drive. Listeners in Malta tune to Smooth to stay informed, to escape, be entertained and maintain a connection to the outside world.

We are committed to supporting a range of community projects and social action initiatives across Malta and Gozo, and are proud to work with the islands' leading brands and businesses.
Radio contacts