Stand with Ukraine. Save peace in the world!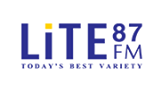 Lite FM
Colombo, 87.6-87.8 MHz FM
Lite FM is Sri Lanka's only Adult Contemporary Station (AC). Featuring "Today's Best Variety". Lite FM brings the listeners the music they want to hear. With a strong focus on listener interaction and participation plus our creative programming and dedicated on air personalities; Lite FM is at the forefront of radio broadcasting in Sri Lanka
Show more
Lite FM reviews
Dilendra Ratnayake

23.12.2019

Music is great and my father loves your radio station, needs as little bit more of marketing support, anyway great job guys !
Information about the radio
Expanding rapidly since its launch into a network comprising of three radio stations –TNL Radio, Lite87 and Rhythm World, a record label called Criminal Records; A web solutions division, TNL RN Online; and signature events such as TNL Onstage, The Flashback Party, Simplicity and Rhythm Night, each component of TNL Radio Network has something unique to offer its audience.
Radio contacts