Stand with Ukraine. Save peace in the world!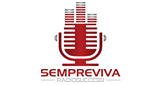 Radio Sempreviva FM
Gavardo, 90.0-102.0 MHz FM
Radio Sempreviva -Poche parole e tanti successi - Sulla scia di RadioVivaFm, "la radio in movimento" nel 2000, grazie anche alla profiqua collaborazione di un pool di persone ( Marco Vivenzi , Marco Massolini Paolo Simonetti e Gigi Benetton) nacque Sempreviva, una radio dedicata ad un target d'ascolto tra i 25 ed i 55 anni , cioè ad un pubblico adulto affezionato alle grandi hits internazionali ed italiane che hanno fatto la storia della musica nei anni'70, '80, '90 e 2000.
Show more
TOP songs on Radio Sempreviva FM
Radio Sempreviva FM reviews
Information about the radio
Per questo sempreviva presenta un format di sola grande musica, 24 ore su 24 con i più famosi radio-successi cosiddetti "sempreverdi", interrotti ogni quarto d'ora da una delle hits del momento denominata "Hit Today".
Per quanto riguarda l'informazione di sempreviva, ogni ora alla mezz'ora vanno in onda le news di "Info 30", dal mattino alle 8,30 fino a sera alle 21,30.
Il notturno soft di sempreviva si chiama "BluNotte": dalle 22.00 alle 02.00 solo brani a battuta lenta o con una ritmica elegante che li contraddistingue.
La nascita di sempreviva rappresentò e rappresenta ancora oggi per radiovivafm l'occasione di offrire una piacevole alternativa anche ad un pubblico più attento all'informazione (nazionale e locale) e maggiormente interessato agli artisti che nel corso degli anni hanno saputo lasciare un'impronta con la loro musica. Naturalmente, tutto questo tenendo l'ascoltatore aggiornato anche sulle novità musicali italiane ed internazionali.
Radio contacts
https://www.instagram.com/radiosempreviva/