Stand with Ukraine. Save peace in the world!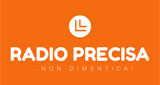 Radio Precisa
La webradio che 24/24 vi fa ascoltare tutti i brani -anche quelli dimenticati - che le radio hanno trasmesso nel corso degli anni in un determinato periodo di riferimento, che su RADIO PRECISA sarà sempre lo stesso del mese che stiamo vivendo Su RADIO PRECISA potrete ascoltare successi che pur essendo stati a suo tempo ai primi posti delle classifiche, ora nessuna Radio considera più in osservanza anche ad esigenze commerciali.
Show more
TOP songs on Radio Precisa
Information about the radio
RADIO PRECISA invece è una WEB RADIO AMATORIALE senza alcun introito pubblicitario, il cui intento è anche quello di ridare valore a canzoni sopite nella memoria di ognuno, ma che al riascolto suscitano emozioni e ricordi, direttamente dai supporti originali dell'epoca come 45 o 33 giri in vinile. Pertanto se sentite qualche fruscio, questo è indice di genuinità del prodotto. RADIO PRECISA non è solo musica. Quotidianamente si parla di mode, fatti e misfatti, rarità, sport, televisione , film e cose dimenticate con Carlo Bianchi e Franco Righi, in "PRE-CI-SI!", il programma di punta di Radio Precisa. Un appuntamento che appassiona i nostalgici e incuriosisce i più giovani con un racconto a 360 gradi, condito anche con un pizzico di trash.
Radio contacts
Time in Como: ,