Stand with Ukraine. Save peace in the world!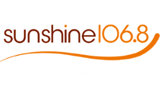 Sunshine 106.8
Sunshine 106.8 - Dublin's Easy Place to Relax. Find us in Dublin on 106.8FM, on-line at www.sunshine1068.com and on digital Virgin Media Channel 933. We're the station that plays the music that helps you chill, relax and unwind - featuring Ed Sheeran, The Bee Gees, Aretha Franklin, Michael Buble, Adele, The Carpenters, Elton John and more...
Sunshine 106.8 reviews
Top

Kathleen Fischer

09.12.2021

I adore your radio station. I live far across the pond in Washington, Iowa USA and yours is my go to station. Your choice of music is phenomenal. Thank you so much!!!!

Sean Domhnall O Sullivan

14.05.2021

pumping out longer ads that play regularly on behalf of the medical dictatorship and reaping that advertising bonus.. often plays banal and depressing stuff

I'm a recently retired radio broadcaster and this is my new favorite radio station.

Have found you station and really enjoy it. Puts this North Carolina boy in a good mood. Makes me want to move to Dublin !! LOL

Excellent Radio Station - one of the best!!

Aleksandr Pautov

23.06.2020

a lot of talk and therefore little music .......

Joseph Benjamin

02.06.2019

The best lite station--makes NYC market stations sound inferior.