Stand with Ukraine. Save peace in the world!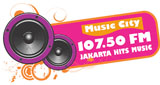 Music City 107.5 FM Jakarta
TOP songs on Music City 107.5 FM Jakarta
Music City 107.5 FM Jakarta reviews
Jakarta hits music
Information about the radio
Ketika pertama kali mengudara sekitar tahun 1997, radio ini bukan bernama Music City melainkan radio 5 a Sec dibaca: Seng a Sec. Cikal bakal pendiri radio adalah spasialisasi horizontal 68 atau diversifikasi usaha dari sebuah perusahaan laundry binatu, yaitu PT. Grita Arta Kreamindo yang memiliki Group Laundry 5 a Sec. Saat itu frekuensinya pun masih berada di gelombang 105,45 FM dengan studio yang masih terpisah dengan kantornya. Studio siaran radio 5 a Sec beralamat di Jl. Pringgondani, Cibubur, sedangkan kantor redaksinya beralamat di Kemang Selatan. Namun kini kedua bangunan tersebut sudah tidak dipergunakan lagi, setelah dibangunnya studio baru sekaligus kantor radio Music City yang mulai ditempati sekitar tahun 2004, yang beralamat di jalan Puri Sakti I No. 22, Pangeran Antasari, Jakarta Selatan, 12410. Hanya studio Cibubur yang masih digunakan menara pemancarnya untuk menyiarkan radio Music City, karena ia memiliki pemancar yang cukup tinggi. 68 Spasialisasi artinya perpanjangan institusional dalam perusahaan di sebuah era dalam industri komunikasi. Spasialisasi dibagi menjadi dua, yaitu spasialisasi vertikal dan spasialisasi horizontal. Dalam spasialisasi vertikal, perpanjangan institusional dilakukan masih di dalam satu jenis usaha yang sama, contohnya perusahaan Televisi mendirikan perusahaan Radio. Sedangkan spasialisasi horizontal, perpanjangan institusional dilakukan dalam bidang usaha yang berbeda, seperti yang dilakukan oleh Group 5 a Sec Laundry. Perubahan kepemilikan dan nama siar radio terjadi ketika memasuki tahun 2000. Yaitu pada saat radio ini dibeli oleh Ibu Hj. Elisa Pusparini, MBA, dari Bapak Joes Noerdin. Sehingga nama siar radio pun berubah menjadi Radio Music City dan nama perusahaannya adalah PT. Radio Mitra Citra. Kemudian pada tahun 2004, pemerintah menetapkan gelombang frekuensi baru untuk masing-masing radio yang mengudara. Akhirnya sampai saat ini radio Music City mengudara di frekuensi 107,50 FM.
Radio contacts