Stand with Ukraine. Save peace in the world!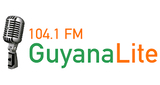 104.1 Guyana Lite FM
Guyana's Lite FM 104.1 is the alternative to the regular programming heard on radio in Guyana daily. Our concept of "Soft Relaxing Music" serves as a complement and can also be considered as "Music to Rewind With". Our selections of music from all over the world also add to the variety of songs of Yesterday, Today & Forever.
104.1 Guyana Lite FM reviews
Amrita Cheeatow

14.10.2023

This is my favourite station. Live in Canada 35 years and it's pure Nostalgia . The program and the songs are just perfect. Great selections that always makes my day

Gerrald Williams

17.08.2022

Hello Bobby this is Pastor Gerrald Williams your reception is loud and clear in ROXBORO QUEBEC CANADA

Charles Rodrigues

10.12.2021

Just nice

I was visiting my moms and this is only staton she listens to, and I enjoyed listening to it too.