Stand with Ukraine. Save peace in the world!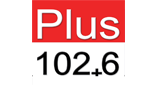 Plus Radio
Thessaloniki, 102.6 MHz FM
H Official fan page του 102,6 Plus Radio,του πρώτου μουσικού ραδιοφώνου της Θεσσαλονίκης! Plus Radio 102.6 is an Internet Radio station broadcasting from Thessaloniki, Central Macedonia, Greece, providing Greek, Top 40/Pop, Hits and Adult Contemporary Music.
Plus Radio reviews
Πραγματικά χαλιά. Μ αρέσει που φέρνουν και dj. Βάζουν όλα κ όλα 10 τραγούδια και τα παίζουν ξανά και ξανά απ' την αρχή.Καμια ιδιαιτερότητα απο τον ένα dj στον άλλο! Για μας που ακούμε όλη μέρα μουσική λόγω δουλειάς πιστεύω ότι αν ακούσω εκπομπή προχθεσινή θα χει ίδια μουσική με αυτήν που παίζει σήμερα. Απαράδεκτο για τοσο μεγάλο σταθμό

Super!

Best radio and best regards from Serbia!!!

Best radio ever. Greetings from Serbia 🇬🇷🇷🇸

Τρομερή ξένη μουσικη!!

Vesna Milutinovic

29.04.2019

Super, greetings from Serbia 😘❤🙋🎶

Ελισσαβετ Καρακασιδου

04.10.2018

Η ΚΑΛΥΤΕΡΗ ΞΕΝΗ ΜΟΥΣΙΚΗ ,,ΑΠΟ ΤΟ ΚΑΛΥΤΕΡΟ ΡΑΔΙΟΦΩΝΟ,,PLUS RADIO...
Radio contacts
Fax: 2310 257095
Viber: 697 900 1026
https://www.instagram.com/plusradio102.6/