Stand with Ukraine. Save peace in the world!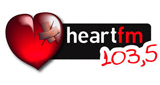 Heart FM
Heart FM 103.5 είναι ένα ραδιοφωνικό σταθμό εκπομπής από την Αθήνα, Ελλάδα παρέχοντας Ελληνικά Top 40 / Pop μουσικής.
Heart FM reviews
Hugo Norberto Rubino

22.05.2017

Desde la ciudad de NEUQUEN (ARGENTINA), los encontré a través de radio GARDEN, oportunidad sensacional, tengo 65 años y vuestro estilo de música me acompaña en mi trabajo, pero mucho más, porque me activa los sentidos para diseñar mis proyectos edilicios. En el ida de hoy, a las 12:50 AM de su ubicación geográfica , después de la canción de Elton Jones, escuché una canción por una cantante que me gustaría conocer su nombre y el de la canción. A través de la distancia, reciban mis afectos y felicitaciones. Gracias.

Gerald in Crete

10.02.2017

Like the choices of music but not sure why the dj links are hyper when the music is mellow and warm? Anyway as a #Brit in #Crete, it is just what is needed. I do know what it is like to balance output having been behind the mic and presented programs. Cheers!