Stand with Ukraine. Save peace in the world!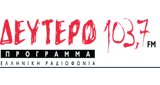 Deytero FM
Athens, 102.9-103.7 MHz FM
Second Program, Second ERT.
Deytero FM reviews
Διαχρονική αξία το ΔΕΥΤΕΡΟ ΠΡΟΓΡΑΜΜΑ. Όαση ποιότητας , μέσα στην έρημο της ελαφρότητας.

Sophie Milosevski

02.04.2023

:)

Ioannis Papaioannou

02.01.2021

Ακρόαση με στόχο τη ψυχή και το νου!!!

it's so nice to listen you from internet, normally we can only listen you from the seaside towns, best wishes.Cagri Oncel, Denizli, Turkey.

przepiekna muzyka pozdrawia petrus czyli piotr z polski

Mehmet Tanrısever

13.05.2020

I m listenin it from ÇEŞME turkey thanks for good music

Mauricio Patiño

14.09.2017

Great selection. Is it possible to get a download version if your programmes?
Radio contacts
210 6092506 (Γραμματεία – Κοινό)